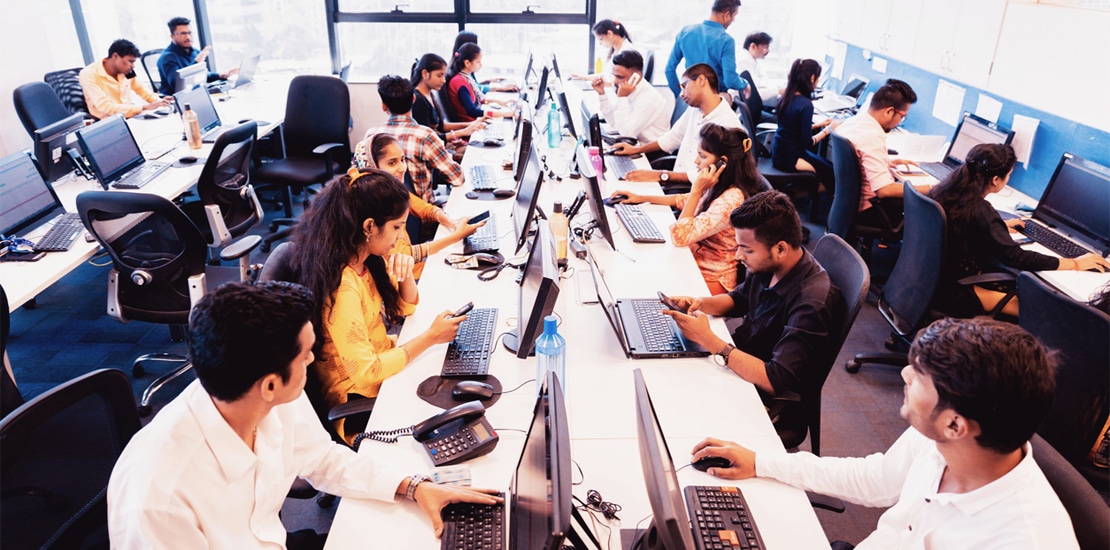 Services Sector
By introducing Service Tax through the Finance Act, 1995, the Services sector was given it's due recognition a significant potential contributor to the future of India's growth. While other sectors have not exactly fired away, it's the Services sector that has been the flag bearer of the Indian economic growth. Even for FY 2019-20, while the economy as a whole grew only by 5% (Source: Economic Survey 2019-20), the services sector recorded a growth of 6.9%! Similarly, while the share of India's Merchandise exports in world trade was 1.7%, the share of Service' exports was a respectable 3.5%.
Even within India, the share of the service sector has been consistently on the rise. In 2018 it stood at almost 50%, which is a huge achievement.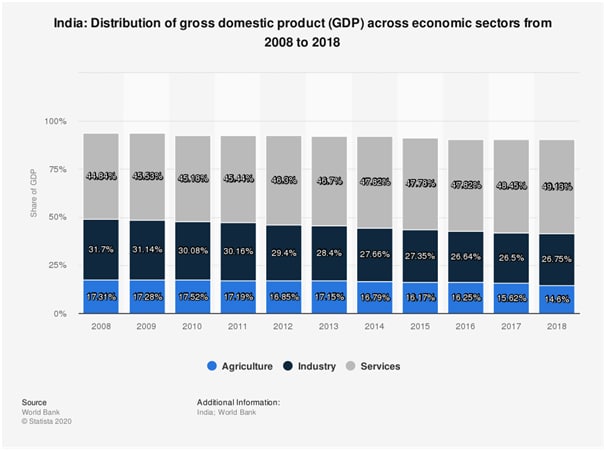 Starting with the IT sector [software companies, BPOs etc.], the service industry continued to witness exponential growth when other sectors such as financial sector, especially those related to the stock market, made a mark for themselves. Treating the services sector on par with the manufacturing sector, service providers were also covered under the MSME juggernaut that was rolled in 2006.
The new MSME (MSME hyper link for this word)threshold limit effective from July 1, 2020 allows the big sized service enterprises to seek support and encouragement in the form of financing and incentives.
How Do We Fit In?
Similar to the manufacturing sector, we offer help in addressing the following issues:
Start-up Registration
Read all about this here.(add the start-up page hyperlink here).
Financing
Fighting the notion that service focussed businesses are hardly finance seekers, a new wave of start-ups and other successful entrepreneurs are looking to expand their footprints and hence need financial support to fund their ambitions. From acquiring office space, to establishing a high-end IT infrastructure to sustain and take their business online, there are any number of factors that call for investment.
We are the bridge between you and the funds your business needs. We put specific questions to you to understand your requirements, propose a suitable scheme, prepare a report and finally, armed with all relevant information and the report, approach the bank/NBFC with your requirement. Tangible and intangible, both types of services are necessary to secure funding and we excel in both!
Tax Evaluation
Income Tax: If you are planning to launch a new business, it is important to determine the constitution of the business so as to optimise your direct tax outflow.
GST: There are certain measures that can be put in place for a relatively better management of your GST outflow including places of registration, determining place of supply etc.
Registration and Compliance
For a business enterprise, there are multiple registrations in varied sectors such as:
Start-up Registration

Taxation (TDS, GST etc.)

Trademarks

Intellectual Property

MSME Registration (make this a hyper link for MSME page)

Multiple other registrations
We believe that for a service provider, all situations offer opportunities that are waiting to be tapped. It's your vision that will take you there. While you prepare to fly, allow us to prepare the ground on which you will forever stand rock solid.